Weiterführende Informationen
Top content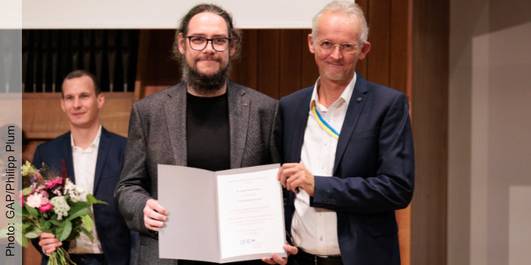 Society for Analytic Philosophy awarded Wolfgang-Stegmüller-Prize to Gregor Hörzer
Dr. Dr. Gregor Hörzer, research associate in the Philosophy of Mind and Cognition group, received the prestigious Wolfgang Stegmüller Award for his dissertation Understanding Physicalism (de Gruyter, 2020) at the international congress GAP.11 of the Society for Analytic Philosophy (GAP) in September. In his laudatio, the president of the GAP, Prof. Dr. Geert Keil, emphasized that Gregor Hörzer's dissertation impressed through its breadth and through the depth of its coverage of the problem: "All important contemporary approaches to the topic of reductionism are skillfully interwoven. All problems related to the topic are formulated step by step, discussed, and, building on the current state of the literature, a solution is proposed."
Two student books with term papers published
A total of 125 students have contributed to two new books about "Artificial Intelligence in Public Discourse" and "Artificial Intelligence in Education". The books contain term papers that otherwise too often just disappear in the drawer. Here, classes were not only used to write the papers but also to comment, discuss and revise them until a publishable state was reached. This summer, all contributors were invited to a release party to pick up their printed copy and celebrate together. Both books are published open access in the "PICS - Publications of the Institute of Cognitive Science" series and can be downloaded for free or ordered from the "Association of Friends and Sponsors".